Craving some delicious Mexican-inspired cuisine but worried about maintaining a healthy lifestyle? Look no further than Taco Bell's healthy options. With a range of menu items that cater to different dietary preferences and restrictions, Taco Bell provides a scrumptious and nutritious experience for all. Whether you're seeking low-calorie choices, vegetarian or vegan alternatives, or even gluten-free options, Taco Bell has you covered. Say goodbye to sacrificing flavor for healthfulness and say hello to a guilt-free taco adventure!
Taco Bell Healthy Options
Introduction of Taco Bell healthy options
Taco Bell has made significant strides in recent years to provide healthier options on their menu. Recognizing the growing demand for nutritious and balanced meals, Taco Bell has responded with a variety of choices that cater to different dietary preferences and restrictions. Whether you're looking for low-calorie, reduced sodium, reduced fat, vegetarian or vegan, gluten-free, or simply want to exercise portion control, Taco Bell has options that will satisfy your cravings without compromising on taste.
Overall approach to health-conscious menu
The overall approach of Taco Bell towards their health-conscious menu is to strike the perfect balance between taste and nutrition. They believe that healthy eating should not mean sacrificing flavor. Taco Bell collaborates with dietitians and food experts to ensure that their menu items not only meet nutritional requirements but also tickle your taste buds. They continuously innovate and improve their offerings to keep up with the evolving preferences of their customers, all while maintaining transparency and educating their customers about their food choices.
Menu transparency and ingredient quality
Taco Bell places great emphasis on menu transparency and ingredient quality. They take pride in sourcing their ingredients responsibly and strive to maintain the highest quality standards. Taco Bell considers ethical considerations and sustainability when selecting suppliers, ensuring that their ingredients are produced in an environmentally conscious and humane manner. Additionally, they provide easy access to nutritional information and allergen information, taking into account the needs of customers with specific dietary requirements. Measures are also taken to prevent cross-contamination for individuals with allergies.
Low-calorie options
Taco Bell understands that many individuals are conscious of their calorie intake and have introduced a Fresco-style menu that offers a refreshing twist on their classic favorites. The Fresco-style menu swaps out higher-calorie ingredients for fresher and lighter alternatives. Some of the standout choices include the Fresco Crunchy Taco, Fresco Grilled Steak Soft Taco, Fresco Burrito Supreme, Fresco Chicken Soft Taco, and Fresco Bean Burrito. These options allow you to indulge in delicious Mexican-inspired flavors while keeping your calorie count in check.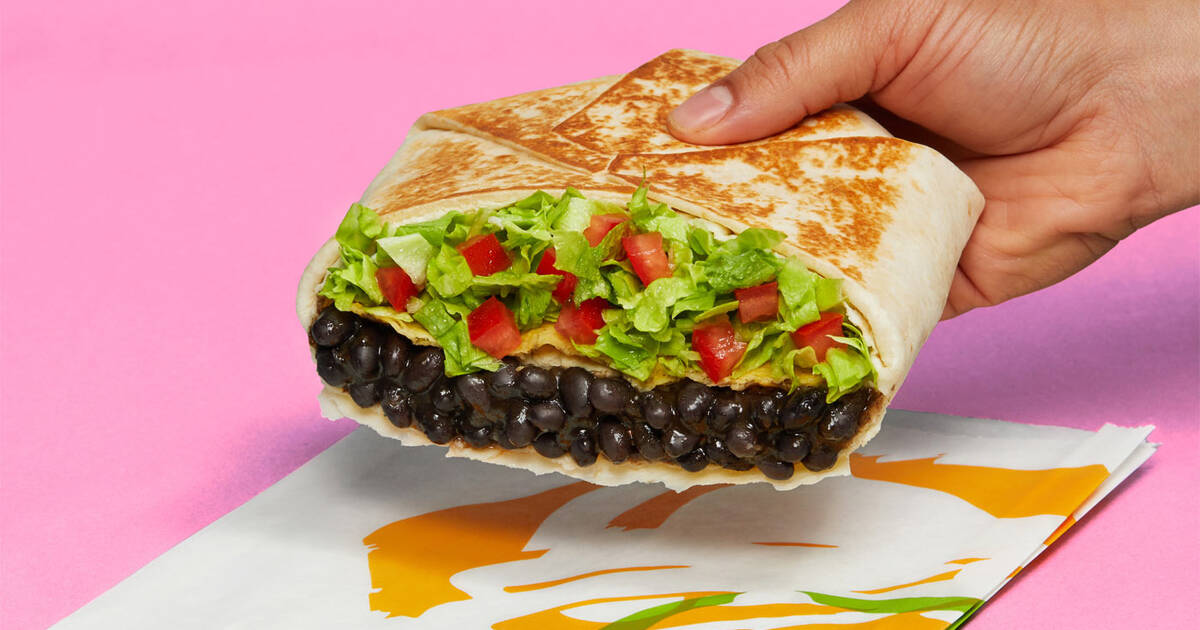 Reduced sodium options
In response to concerns about sodium intake, Taco Bell has made efforts to reduce the sodium levels in their menu items. They have explored healthier seasoning alternatives that add flavor without compromising on taste. By incorporating these alternatives in their recipes, Taco Bell offers several reduced-sodium choices. These items are carefully crafted to still provide that signature Taco Bell taste while being mindful of sodium content. So, if you're watching your sodium intake, you can enjoy your favorite Taco Bell meals without worrying about excessive sodium.
Reduced fat options
Taco Bell recognizes the importance of reducing overall fat content in their menu items. To achieve this, they have implemented healthier cooking methods that minimize the use of oils and fats. These methods include grilling and steaming, which help to retain flavors while reducing the fat content. Taco Bell offers a variety of fat-conscious menu items that are lower in fat compared to their traditional counterparts. From tacos to burritos, there are plenty of options available for those looking to enjoy a more health-conscious meal.
Vegetarian and vegan options
Taco Bell has embraced the growing trend of plant-based eating by expanding their vegetarian and vegan options. They understand that individuals have different dietary preferences and are committed to providing choices that cater to all tastes. Taco Bell has removed animal products from some of their menu items, making them suitable for vegetarians. Whether you're craving a Crunchy Taco Supreme, Bean Burrito, or even a power bowl filled with protein-packed black beans, you'll find plenty of vegetarian options to enjoy. Additionally, Taco Bell has introduced vegan-friendly options by replacing animal-based ingredients with plant-based alternatives.
Gluten-free options
For individuals with gluten sensitivities or those following a gluten-free diet, Taco Bell has made efforts to accommodate their needs. They have removed gluten-containing ingredients in certain menu items, providing gluten-free alternatives that don't compromise on taste. From the Power Menu Bowl to the Crunchwrap Supreme, Taco Bell ensures that gluten-free individuals have plenty of choices available. By catering to those with specific dietary requirements, Taco Bell aims to create an inclusive dining experience for all.
Customization and portion control
One of the great benefits of dining at Taco Bell is the ability to customize your order to fit your specific dietary needs. You have the flexibility to add or remove ingredients, adjust portion sizes, and make substitutions according to your preferences. This customization allows you to exercise portion control and tailor your meal to meet your nutritional goals. You can also opt for lighter sauces and toppings to reduce calorie and fat content. Taco Bell empowers you to take control of your meal, ensuring that it aligns with your personal health objectives.
Healthier sides and beverages
Taco Bell doesn't stop at just offering healthier main dishes; they also provide a range of healthier side options and beverages. Instead of traditional sides that can be higher in calories and greasy, Taco Bell offers health-conscious alternatives such as black beans, pico de gallo, guacamole, and Mexican rice. These options give you the opportunity to add nutritious elements to your meal without compromising on taste. Furthermore, Taco Bell offers reduced-sugar and low-calorie beverage choices, including diet sodas and unsweetened iced tea, ensuring that you can enjoy a refreshing drink without the added calories.
In conclusion, Taco Bell has made tremendous efforts to expand their menu with a focus on healthier options. They understand the importance of providing nutritious choices and have responded to customer demand for healthier alternatives. With their commitment to transparency, collaboration with dietitians, and continuous menu innovation, Taco Bell offers a range of options that cater to various dietary preferences and needs. From low-calorie and reduced-sodium options to vegetarian and gluten-free choices, Taco Bell has something for everyone looking to make healthier choices while enjoying delicious Mexican-inspired cuisine.